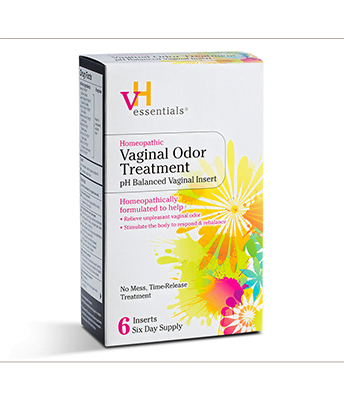 This product is a homeopathic treatment for vaginal odour. Homeopathic remedies, sadly (it's a cool idea!), are not proven to work, though the principles behind homeopathy are really interesting. We discuss homeopathy a little more in our homeopathy article.
Homeopathy has repeatedly failed to impress via scientific research. Results tend to suggest that homeopathy is no better or worse than placebo, so while placebo is a powerful therapeutic agent by itself, is not a useful comparison in science. It means it's the same as the group who didn't get the remedy, but who thought they did. (You can think your way to a cure which frankly is amazing, but this doesn't prove the actual thing works.)
VH Essentials Vaginal Odor Treatment contains homeopathic ingredients plus vitamin C and lactose as the capsule base, which are the ingredients most likely – presuming the homeopathic remedy is inactive – to be responsible for any effect. As such, it is not a completely unproven remedy (an acidic pH and lactose-hungry lactobacilli are well-known healthy vagina elements). VH Essentials does not offer any scientific research or even a good guess at whether their product actually works at all. It is a novel idea that a pharmaceutical company is selling homeopathic remedies.
Cost: about US$30
Does it work?
The product is very clear that it is used to treat very minor vaginal odour, and working backwards with science, two ingredients listed as 'inactive' (vitamin C and lactose) could be responsible for the vaginal microflora becoming heavier in lactobacilli, and therefore help to remove vaginal odour. Many women get good results with this for vaginal odour, but this term is very nonspecific.
Can it cure BV?
If a woman has BV, it could work as a first-port-of-call instead of/in conjunction with antibiotics and also probiotics, but recurrent BV will probably not respond to this treatment.
Common side effects
The vitamin C content of these inserts (and possibly some of the other 'inactive' ingredients could cause vaginal burning, and some women report abdominal pain.
What do the reviews say?
The 25 reviews on the company site are all 5 stars (except one), and there doesn't even appear to be any facility to put your own review in, making these reviews under suspicion of being fake. Additionally the product page has a warning that some of the ingredients are actually incorrect, but it doesn't say how that may occur specifically.
Amazon reviewers were overall pretty complimentary, with over 60 per cent happy.
CONSUMER NOTICE ABOUT HOMEOPATHIC VAGINAL ODOR TREATMENT PACKAGE INSERT: While the homeopathic actives in the vH essentials Homeopathic Vaginal Odor Treatment are accurately listed on the product carton (see carton Drug Facts box), the actives identified on the package insert may be incorrect in some cases. Please refer to the active ingredient listed on the product carton, the Drug Facts link below, or the updated package insert for the accurate identification of active ingredients.
It has six homeopathic ingredients:
Active Ingredients
Purpose
Cal carb 6X* HPUS** (Carbolic Acid)
Relief of unpleasant vaginal odor
Hepar sulph calc 6X* HPUS** (Calcium sulfide)
Kali phos 6X* HPUS** (Potassium phosphate)
Kreosotum 6X* HPUS**
Secale 6X* HPUS**
Sepia 6X* HPUS*
* X is a homeopathic dilution
**The letters HPUS indicate that these ingredients are officially monographed in the Homeopathic Pharmacopoeia of the United States
And other important ingredients:
Ascorbic acid (Vitamin C, used as an acidifying agent)
Hypromellose (a powder used to form a gel when it reaches a certain temperature, which suspends the other ingredients)
Lactose monohydrate (this is regular lactose, which feeds lactobacilli)
Magnesium stearate (used as a flow agent for smooth processing, keeping ingredients together in the correct proportions)
Purified water (plain old water, without extra junk)
How to use the product
The packaging directs one vaginal insert per day, for six days of treatment.
Who owns VH Essentials?
VH Essentials is a subsidiary of Wisconsin Pharmacal Co, a pharmaceutical company, which has a shop set up to sell their different branded products, Lake Consumer Products, also a subsidiary of Wisconsin Pharmacal Co. These products are commonly available at regular retailers and supermarkets in the United States.